After So many research we have arrived with the 5 best software for screen recording : in this article we will cover everything you need to know and why you should choose this softwares.
It's very important to choose the right free screen recorder depending on what you intend to do with the footage you capture.
While various screen capture tools differ in price and functionality, most share a number of features, such as:
adjustable video frame
unlimited recording time
cut-and-paste editing
Which tool should you use to make an effective video tutorial, market your business to online customers, or even record a new maneuver in your favorite game? This shortlist provides everything you need to make an informed decision and start creating.
RELATED ARTICLE || Mobdro Download App for Pc, APK Android & iPhone Free
Below is the list of screen video recording software:
1.DVDVideoSoft Screen Video Recorder (FREE).
Free Screen Video Recorder is a full-featured but lightweight free screen recorder from a developer known for its free conversion software. It can record Skype conversations with no limitations and is therefore useful for Skype interviews and online conference calls. Also, different Windows applications can be singled out and captured as discrete elements. Included is a basic user-friendly image editor that is surprisingly helpful for attaining a polished look.

key Features
Offers a convenient screenshot feature
Suitable for recording Skype conversations
Different modes for recording screen and video
Step-by-step instructions provided on the website
Output formats include MP4, BMP, TGA, JPEG, PNG, and GIF
Available in 10 languages
2.Camtasia
With Camtasia, you can record professional videos of activity on your computer's monitor with minimal effort. In addition to recording videos, Camtasia also lets you import HD video into your recording from an external source. Camtasia is unique in that it can create interactive videos containing clickable links to generate dynamic video content suitable for use in the classroom or the workplace.
Key Features
Records on multiple video and audio tracks
Has green screen effect to make it seem as if you are a part of the action
Easy to incorporate animated items, like callouts and scrolling text
Google drive integration
Free app available to record videos on mobile devices and transfer to Camtasia for editing
Export video at 60fps (new with Camtasia 2018 and newer)
READ ALSO || Here Are Some Details You Need To Know About Biometric Clocks
3. Apowersoft Free Online Screen Recorder
An in-browser recorder more powerful than most desktop apps
If you want to record a presentation, software demonstration or tutorial, give Apowersoft Free Online Screen Recorder a try. It's a browser-based tool, which means it's not suitable for games, but for any other tasks it's ideal.
The first time you use Apowersoft Free Online Screen Recorder, you'll be prompted to download a small launcher application. You'll then be provided with a control bar packed with more options than you'll find in most desktop screen recording software. You can capture footage from your desktop or a webcam, and record audio from your PC, microphone, both or neither.
Key Features.
No time limits or watermarks
Lots of export options
Also Record from webcams
4.ShareX
ShareX is an open-source ad-free tool that boasts almost as many custom features as some paid software screen recorders. ShareX is mostly targeted toward developers and power users, so an average customer might get lost in the many advanced tools and editors.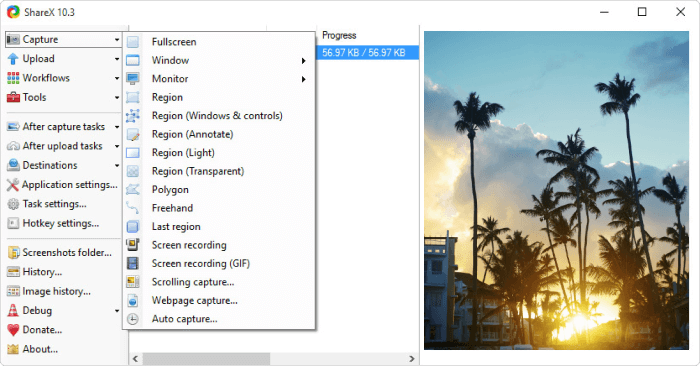 Key Features
Records full screen, window, monitor, region, freehand, or scrolling
Incorporates hotkeys for easier and quicker navigation
Supports many URL sharing services
Imports existing videos, music, or photos
Allows custom watermarks and color effects
5.OBS Studio
If you're a keen gamer, OBS Studio is easily the best screen recorder for you. Unlike the hugely popular FRAPS (which only lets you record for 30 seconds at a stretch unless you've bought a license, and applies a watermark to the resulting footage), OBS Studio is open source, and completely free to use without restrictions.
OBS Studio supports both streaming and recording in high definition, with no restrictions on the number or length of your creations. You can stream live to Twitch or YouTube gaming, save projects and come back to them later, or encode your footage in FLV format and save it locally.
Key Features
HD streaming and recording
No restrictions on video length
Open source and ad-free
Conclusion on best software for screen recording
Both free and paid tools from the best screen recording software can be effective methods of capturing the work-related or entertainment activities on your PC.
Whether or not you should spend money on one of the products outlined above depends on the nature of your tasks. Professionals working on eLearning video projects may benefit the most from iSpring Suite and its iSpring Cam Pro video studio. Experienced users with keen technical skills might opt for ShareX. Those looking for a simple and reliable screen recorder for simpler tasks should be pleased with Free Cam.